Product Description
Description
DoorShox Valet Edition is designed for valet parking situations where parking attendants need to open and close the front doors without having to remove and re-install the product. One set of DoorShox Valet Edition ($69.95) protects both sides of a 2-door vehicle from parking related dings and dents and can be used on 4-door vehicles, if an additional set is ordered. REMEMBER, magnets do not work with vehicles that have aluminum doors, so be sure to follow our instructions on how to test your door.
Specs

Materials: ENERGY ABSORBING V-TECH FOAM
Dimensions: * 29 inches per door guard * 69 inches total expansion * Adjustable cable goes from 0 – 11 inches
Weight: 15 ounces per Door Guard
Features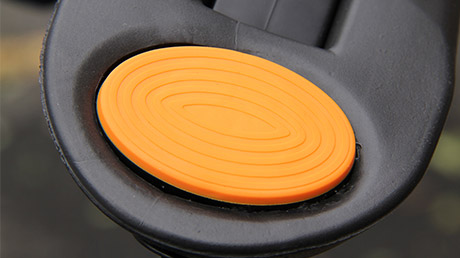 The Door Shox car door guard utilizes our patent pending "No Touch" magnet technology. This means that the magnets never make direct contact with your vehicle paint – the magnetic feet are covered with a micro ribbed silicone like material that's soft and anti-slip.
The micro ribs reduce the contact area and provides superior grip. Our rubber covered magnets EASILY WIPE CLEAN with a tissue or hand wipe or hose. The DoorShox car door protection system is the most advanced car door guard product on the market today.
IMPORTANT: Magnets will NOT work on Aluminum Doors
HOW TO TEST YOUR VEHICLE'S DOOR TO DETERMINE IF THEY ARE MADE OF ALUMINUM OR STEEL
Since DoorShox uses rare earth magnets to attach to your vehicle's doors it will only work with steel.
To check to see whether or not your doors will be compatible with DoorShox simply try putting a kitchen magnet (I.E. refrigerator magnet) near your door.
If you feel the magnet pulling DoorShox will work fine. If the magnet is not attracted to the door than it means your doors are Aluminum and DoorShox will not work.
---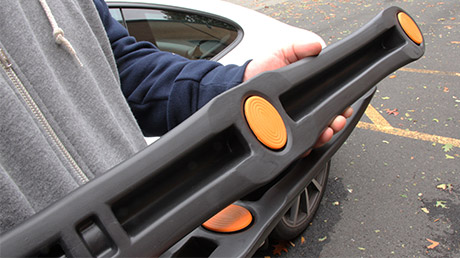 No Touch Rubber Magnets
DoorShox magnetic feet are encased in super soft silicone like rubber that will not scratch your paint. The rubber coating on DoorShox is designed resist dirt and debris and unlike fabric or felt covered car door protectors, it will not get wet or soggy.
Anti-Theft Security cable
As a theft deterrent, every DoorShox comes equipped with a security cable. The vinyl coated aircraft cable is cut resistant, and thin enough so it fits in the doorjamb when the door is closed. The security cable attaches via suction cup to the inside door window glass.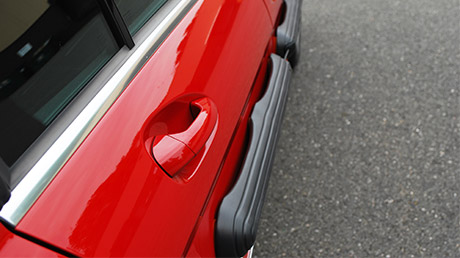 Impact Arch Design
The unique bridge design enhances the DoorShox foam's natural ability to flex. When the DoorShox is struck the impact arches compress and spring back to their original form, providing maximum shock absorption. DoorShox is designed to contour to your vehicles body panels for the best possible fit.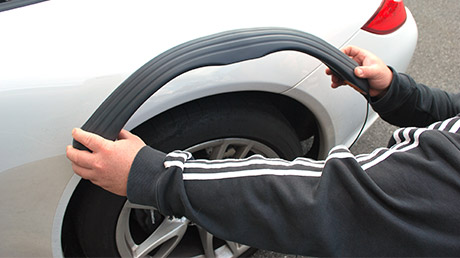 Flexible All Weather Material
DoorShox flexibility is one of it's best features, allowing the guard to conform better to your vehicle's body, providing a glove like fit. Whether your car has bulging doors or flared fenders DoorShox will flex to provide the best protection.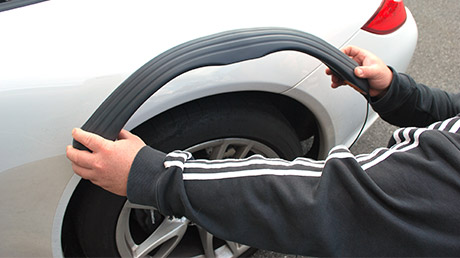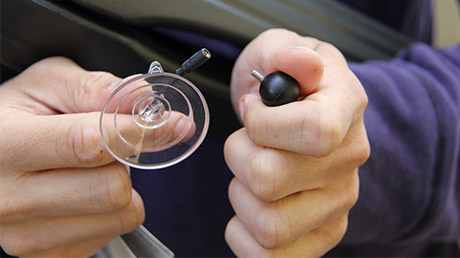 Modular Design
DoorShox is modular by design, providing the ability to replace the suction cup if necessary. Using only top quality, Adams suction cups (made in the USA), DoorShox is adaptable and functional for all car door protection needs.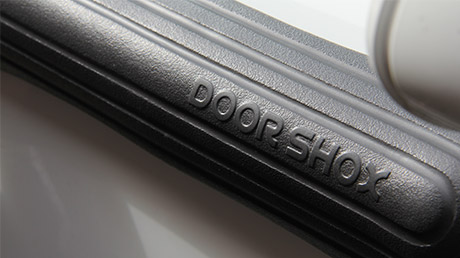 Tough Matte Black Texture
The matte black finish of DoorShox enables it to blend in with any vehicle providing and maximum protection. While blending nicely with any color vehicle, DoorShox aides in protecting your vehicle against damage from door dents and dings.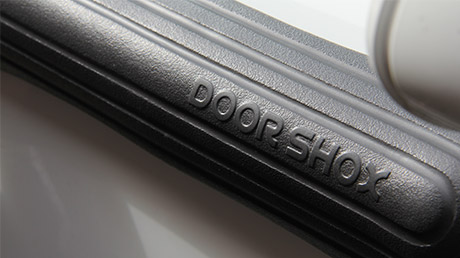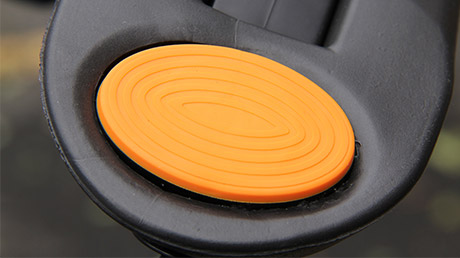 Raised Rib Foot Design
The DoorShox feet are made of super soft silicone with a ribbed texture to provide additional cushioning and raise the feet off the door. By keeping the feet raised off the door, the soft silicone feet add an additional barrier layer between the silicone covered magnetic feet and the vehicle door.
---
Flexible Material

Strong and pliable

Security Cable

Anti-theft protection

Bridge Architect

Channels impact outwards

No touch Magnets

No scratching or chiping

Energy Absorption

Thick and durable foam

Contours to Vehicle

Protection where it counts

Adams Suction Cup USA

Gold standard in suction
Installation
Do you get nervous every time you Valet park? You should... valet parking complaints are on the rise as fewer cars have side door protection. The "Valet" edition DoorShox was designed for quick...easy attachment and convenience when parking in a valet parking garage environment. The cool thing about the "Valet" Door Shox is that the parking attendant can open and close your car door without removing the DoorShox. (Note): Valet edition car door guards can be used on 2 door or 4 door vehicles. For more information on Standard Edition vs. Valet Edition click here.
STEP 1
Attach suction cup to inside glass of front door and shut the door on the security cable.
STEP 2
Place one car door guard on each door (repeat backwoards to remove).
* (Note: before closing vehicle door make sure all connectors are out of the way)
Product Reviews
Write Review
Pricey but better than most

Posted by Bostonboy on Nov 6th 2017

More durable than cheaper guards some kind of felt or microfiber cushion over magnets might prevent scratches.

Perfect

Posted by Chilo on Feb 28th 2017

My need was something to protect my vehicle from my neighbor whose child routinely opens their car door and dents mine. This does the job perfectly to both protect my vehicle and to remind them that I would like some consideration.