Product Description
Description
This is the Heavy Duty version of BumpTeks popular corner bumper guards for maximum protection against bumper scuffs and scrapes. What makes this product different? The Air Pocket on the backside provides 3/4" overall depth. Because the product sticks out ¾" from the bumper it offers superior protection.
BumpTek is Made in Europe, where quality is a top priority. It's crafted from a durable and flexible impact absorbing material. The black matte finish is UV stable and blends in with any existing car trim, providing an OEM appearance that will enhance and protect your vehicle.
Easily attaches to the rear bumper with a high quality 3M peel and stick tape. Installation instructions are included.
IMPORTANT: PLEASE READ BEFORE PURCHASING!
(1) Designed to stick best on painted bumper surfaces. May not stick to unpainted rubber bumpers, such as those found on the 2013 Honda CRV, 2013 Rav4 etc.
(2) Returns will not be accepted once red adhesive lining is removed.
(3) Ideal installation temperature is 72°F or higher. If surface is cold, use a hair dryer or heat gun to warm before installing.
Please Note:
(1) Make sure you review the product dimensions (below) carefully before ordering.
(2) The ideal installation temperature is 65°F or higher. If surface is cold, use a hair dryer or heat gun to warm before installation.
(3) BumpTek is designed to stick on painted bumper surfaces and may not stick to unpainted rubber bumpers, such as those found on the 2013 Honda CRV, 2013 Rav4 etc.
Specs
Length = 23 inches
Width = 2 inches
Thickness = 0.75 inches
What's Included
Features
Matte Black Finish For OEM Appearance - Will Not Peel or Chip!
Includes 3M Surface Cleaner (To Prepare the Bumper Surface)
Premium Quality 3M Adhesive Tape
Air Pocket Design - Protects Your Vehicle From Parking Related Scrapes and Scratches
Made In Europe - Composed of Durable and High Quality Flexible Material
---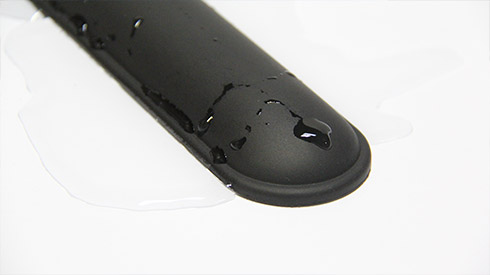 All Weather Material
RhinoGuards are designed for heavy-duty outdoor use; rain, sleet or shine RhinoGuards are designed to be used outdoors 24 hours a day, 365 days a year.
For maximum performance RhinoGuards are constructed from a chemical, UV and weather resistant revolutionary flexible foam material that remains flexible even in freezing temperatures.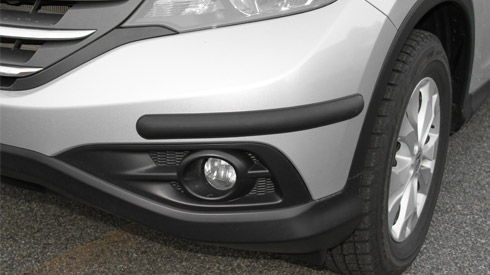 Matte Black Finish for OEM Appearance
The matte black finish of RhinoGuards enable them to blend in with any vehicle providing an OEM appearance and maximum protection.
While blending nicely with any color vehicle, RhinoGuards aide in protecting your vehicle against damage from minor parking bumps.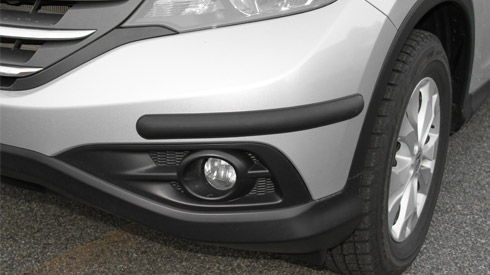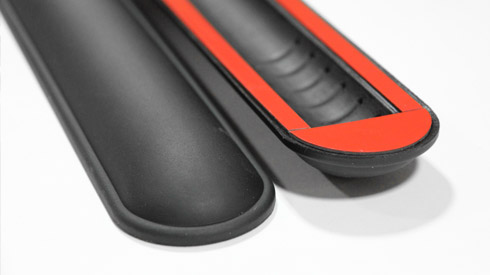 3M Acrylic Adhesive Tape
Using only the best quality products, 3M acrylic adhesive tape provides better durability and superior adhesion.
3M auto adhesive is used for all weather durability and quality, when properly attached RhinoGuards will stay in place until you want to remove or replace them.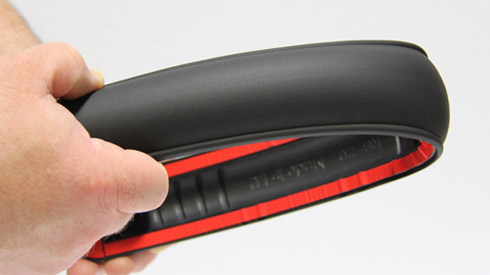 Flex Core Design
The unique flex core design give RhinoGuards the flexibility to wrap around the car bumper, conforming to its shape for a snug and custom fit.
In addition, to the cored out design providing a better fit, it also provides RhinoGuards with added impact absorption properties.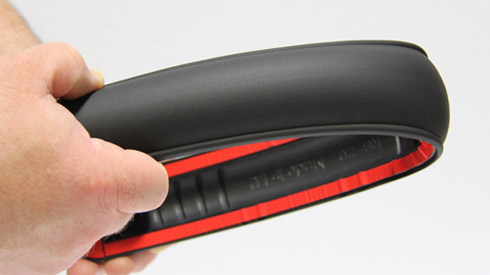 ---
Flex Design

Quality manufacturing & production

3M Adhesive

Quality manufacturing & production

Matte Finish

Quality manufacturing & production

ALL WEATHER Material

Quality manufacturing & production

Extra Thick

Quality manufacturing & production

Made in Europe

Quality manufacturing & production
Installation/Removal Instructions
Step 1
Wash install location thoroughly. Use provided alcohol pads to prep surface. Use masking tape as a guide. Make sure tape is straightand at desired location.
Step 2
Peel back red adhesiveliner and attach gently.
NOTE: DO NOT PRESSDOWN FIRMLY UNTIL YOU ARE SATISFIED WITH THE POSITION OF RHINO GUARD.
Step 3
Press down firmly along edges for 10 seconds(visually inspect that adhesive is making full contact). Note once Rhino Guard is attached it may be difficult to remove without ruining the 3M adhesive tape.
Step 4
Admire your new bumper guards. Do not wash vehicle for 24 hours following installation.
PRESTALLATION NOTES
For best results the installation area must be clean, dry and wax free
Recommended installation temperature is warmer than 65°F
Not recommended for use on unpainted bumpers
Do not wash vehicle or expose to rain for 24 hours after installation
If the temperature drops below 65°F please see the cold weather installation notes
COLD WEATHER INSTRUCTIONS
When the outside temperature is below 65°F, it is best to install Rhino Guard indoors, in a heated space because adhesives are less sticky when cold or when attaching to cold surfaces.
Tip: Keep Rhino Guard indoors
or inside a heated car until ready to install. Use a hair dryer or heater to gently warm the product adhesive and vehicle bumper prior to installation.