Product Description
Description
The BumperArmor by BumpTek (MONSTER EDITION) is a flexible rubber license plate frame and bumper guard in one. The unique frame design adds a clean style that will compliment any vehicle make and model. BumperArmor was designed for the "front bumper" and may not work on the rear bumper because of clearance issues on some vehicles (please see BumperArmor dimensions).
PRODUCT INFORMATION
BumperArmor by BumpTek is made from a super durable soft flexible rubber that compresses and flexes on impact – cushions minor parking bumps. The specially formulated rubber material can withstand hot and cold climates - remains flexible even at freezing temperatures. Will never crack or rust like metal or plastic license plate frames.
Specs
13.75" WIDE X 1" THICK X 8" TALL
Includes four #14 one-inch screws
Features
Soft flexible rubber material - can be twisted and bent always returning to its original shape. Will never crack or rust like metal frames
All Weather - Made from a durable all weather rubber that is perfect for any weather
Screws Included - Includes 1" zinc plated mounting screws and bolts
Perfect Size - Taller and wider than a standard license plate frame for added parking protection
Recessed Screws - Screws are recessed back from the frame, so it protects other vehicles
Two-in-one Design! - BumperArmor frames act as both a license plate frame and a front bumper guard
Includes four #14 one-inch screws.
---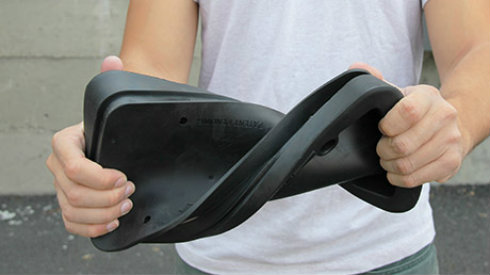 Flexible Rubber Construction
Constructed out of premium grade flexible rubber, BumperArmor is able to flex on impact and will not crack like plastic or rust like a metal license plate frame! Steel or plastic bumper guards are not flexible and will not absorb the impact energy of a parking bump. BumperArmor's all rubber construction ensures durability, while metal or plastic products crack or rust when the finish chips away.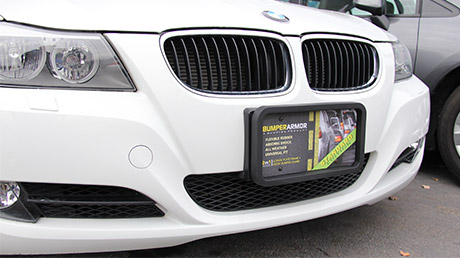 Universal Fit
BumperArmor fits on most vehicles and can be universally installed on most cars, SUVs or trucks. BumperArmor can be mounted directly to your vehicles front bumper or on top of your dealer-installed mounting bracket.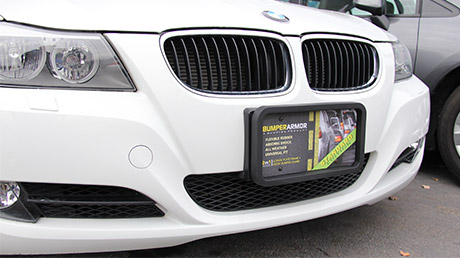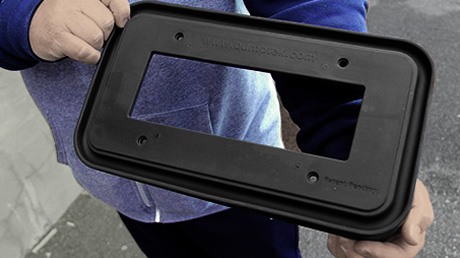 Moat Design
For additional protection and impact absorption, BumperArmor is designed with a unique moat channel all around the backside of the product. This hollowed out channel enables the product to flex upon impact absorbing the majority of the force, without compromising the integrity of your product or car bumper.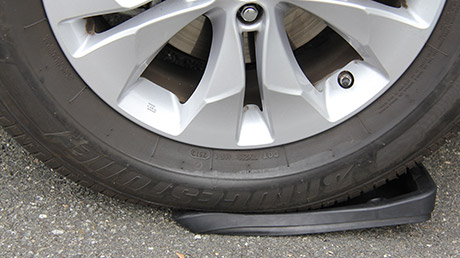 Military Tough Finish
The matte black finish of BumperArmor enables it to blend in with any vehicle; the ultimate stealth accessory. While maintaining it's stealth-like appearance, the military grade rubber aides in BumperArmor's protective mission, standing strong and protecting your vehicle against damage from minor parking bumps.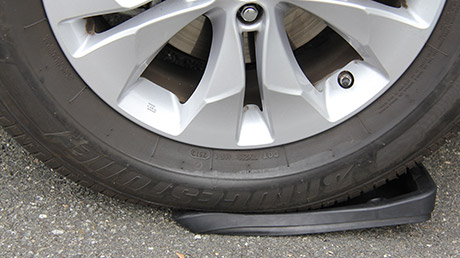 ---
Soft Flexible Rubber

Does not crack like plastic or bend like metal

Shock Absorption

Channels impact outwards

Matte Black Finish

OEM appearance blends in well

Recessed Screws

Prevents damage to other vehicles

All Weather

All season protection

2-in-1 Design

Licence Plate Frame / Front Bumper Guard
Installation
BumperArmor by BumpTek mounts like any standard license plate frame.
Insert your metal license plate into BumperArmor. Next, bolt BumperArmor to your front bumper with Size #14 - 1" inch length screws (included).
Designed for 2 bolt or 4 bolt installation.
STEP 1
Press license plate into BumperArmor from front
STEP 2
Secure product to vehicle using either 2 or 4 screws. Note: Screws not included. Recommended screw size #14 x 3/4"
IMPORTANT PLEASE READ:
(1) BUMPTEK WAS DESIGNED FOR THE FRONT BUMPER. May not work on the rear bumper due to clearance issues.
(2) CHECK HOLE SPACING: Front license plates have standard spaced holes. Nonetheless, please check your license plates hole spacing and compare it with BumpTeks product specifications before purchasing.
(3) WILL NOT FIT VOLVO VEHICLES: Volvo mounting screws are to short.
(4) WHEN USED CORRECTLY BUMPTEK MAY HELP PROTECT BUMPER FINISH FROM SCRATCHES AND SCUFFS. BUMPTEK WILL NOT PROTECT VEHICLE OR OCCUPANTS IN EVENT OF A COLLISION.