BumperBlocker Front/Rear Set
Product Description
Description
Introducing the new all new 2011 Bumper Blocker, the ultimate accessory front and rear bumper guard for safer parking in New York City parking garages. It's an innovative bumper protector and bumper guard designed for both front bumper protection and rear bumper protection. When used properly it may help prevent and protect against minor scratches and marks to a car bumpers finish, during parking maneuvers (1MPH). The Bumper Blocker has found use in NYC parking garages, valet parking garages and vehicle transport industry. This is a must have car bumper guard for NYC parking garages.
Specs
Bumper Guard Construction: Bumper guard consists of 2" inch Foam Core with a 100% cotton weather resistant fabric covering Bumper Guard Size: 84" or 74" total length. Bumper guards can be adjusted for size using our quick adjust Velcro system. Depending on the vehicle you enter we will send you the best size for your vehicle type. Most vehicles use the standard 84"size. Small vehicles such as a Toyota Yaris or Honda Fit require the shorter Bumper Guards. Additionally, cars with short front bumpers may require the shorter size for the front bumper i.e. 3-series, c-class.
Bumper Guard Height: 12" Bumper Guard
Weight: Ultra Light Weight less than 2 lbs
(not waterproof)
Features
Modular Elastic Strap Velcro System
2" Thick Hi-Impact Energy Absorbing Foam Core
Universal Fit – Works with most vehicles
Front and Rear Bumper Guard For NYC Parking Garages Front and rear bumper guards are the most economical way to protect your vehicle when parking in a NYC parking garages. A bumper protector will provide a cushioned barrier for maximum car bumper protection when parking in a parking garage lot. Not all bumper guards are the same – only the Bumper Blocker gives you 360 degrees front and rear bumper protection.
---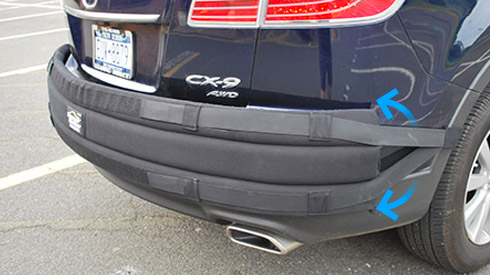 Flex Channel Design
The unique Flex Channel system give the front and rear Bumper Blocker protectors the flexibility to wrap around the car bumper for a snug and custom fit. The patented "Flex Channel" system with elastic Velcro straps provides an adjustable custom fit.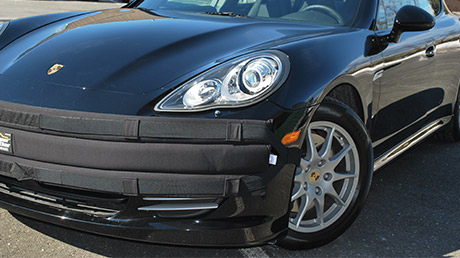 Provides 360 degrees of Coverage
Ensuring the most protection for vehicles parked in indoor parking garages, where damage, dings and scraps are most likely to happen. Bumper Blockers protect the vehicle's entire bumper, all the way around! Most bumper protectors miss a key area, the corners…Bumper Blockers cover it all!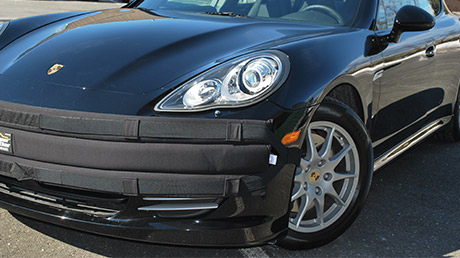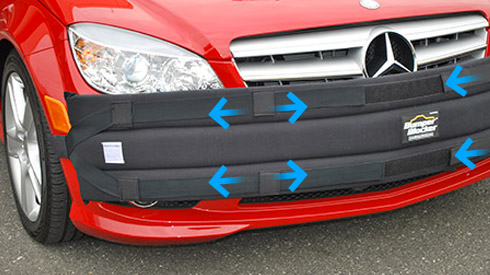 Adjustable Straps & Tension Mounting System
The elastic straps converge into a single strap, so attaching the bumper guard is quick and easy – you need only one anchor point per side. The dual elastic straps make Bumper Blockers easy to adjust, simply tighten or loosen the Velcro straps for quick adjustments.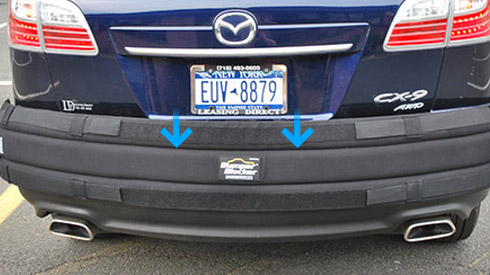 Rear Security Straps
The rear security straps have Velcro ends that attach to the trunk carpet or inside the trunk compartment. These dual rear security straps help anchor the bumper guard and help deter theft. Be sure to always secure the bumper guard to the vehicle by placing the straps inside the trunk.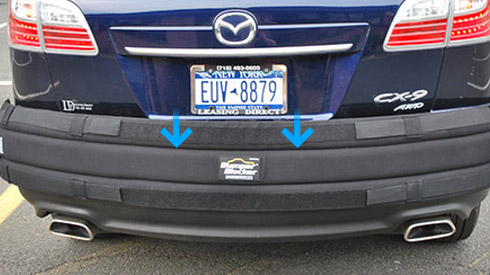 ---
Flex Channel

Adjustable strap wraps around for snug fit

Elastic Velcro Straps

Snug and secure

Rear Security Straps

Fits most vehicles

2" HD Foam

Maximum shock absorption

Easy installation

On and off in a breeze

Weather Resistant

Soft cotton material

Universal Fit

Fits most vehicles
Installation
Installation Guide - Step by Step
Quick Install: You attach the product by hooking the end hooks to the bumper edge. The end hooks are flexible, so you can bend them as needed. Adjust the velcro straps to shorten or lengthen the size.
STEP 1
Bend the flexible end hooks to resemble the letter "L" or "V". The exact configuration will depend on the wheel well shape.
STEP 2
Use the Velcro Straps to adjust the strap size and tension
STEP 3
Hook one end of the product to the bumper edge and while applying tension hook the other end. Note: Use velcro to adjust the strap size and tension
STEP 4
If attaching the rear bumper protector, you can drop the straps into the trunk area. Closing the lid will secure the straps and keep the product from sliding. Note: Straps may not work with some Minivans & SUVs
DO NOT BLOCK - rear exhaust pipes, as it may allow dangerous fumes to enter the vehicle. Vehicle should be in an off position. Do not Drive with product attached. Do not use security straps under the front hood (in engine compartment). Remove straps with scissors before installaing near engine.
Fit Guide
The Bumper Blocker- Bumper Protector is the most versatile bumper guard on the market and can be adjusted to fit most vehicles. Like any product the Bumper Blocker will fit some vehicles better than others.
We do not recommend the Bumper Blocker for the following vehicles
We do not recommend the Bumper Blocker for vehicles that have exhaust pipes high in the bumper. Example: Rear Bumper of Porsche Cayenne SUV, Rear Bumper X5….etc.
WARNING: Bumper Blocker should always be attached above and away from exhaust pipes, and secured in place with the rear security straps. The Bumper Blocker should never cover, block or come in contact with the vehicles exhaust pipes, since this may result in product damage, vehicle damage and cause exhaust fumes to back flow into vehicle causing injury or death.
---
We do not recommend the Bumper Blocker for Extra Small Vehicles such as the Mini-Cooper or Smart Car and Extra Large SUVs such as an Expedition, Excursion, Escalade.
---
We do not recommend the Bumper Blocker for vehicles that have poor anchor points for end hooks. The Bumper Blocker requires a good anchor point for the end hooks - this is the part that grabs onto the bumper edge. If the plastic wheel liner and bumper edge are perfectly flush there is no good anchor for the hooks to grasp onto. Some American cars from Ford and Chevy have flush wheel liners. So, you need to look at your vehicle and decide. If you are unsure than send us an e-mail inquiry. Remember front and rear bumpers may be different so check both.
The Bumper Blocker - front and rear bumper guard is the ultimate vehicle bumper protection for NYC parking garages. Our patented front and rear bumper protector acts as a cushioned barrier, to help protect the car bumper from parking related nicks, scratches and abrasions. Most car bumper guards protect only part of the bumper, our front and rear bumper protector wraps around the entire car bumper for maximum car bumper protection.
Bumper Guard Patented Technology: Our patented technology provides a custom fit for various size vehicles. The "Flex Channel" system and "Quickjust" Velcro gives you a custom fit. Unlike other bumper guards, our front and rear bumper protector provides complete coverage of the vehicle's rear bumper, including the corners of the vehicle – the area of your bumper that is most vulnerable to abrasions.
Please contact us with any questions regarding our car bumper protection products, bumper guards, car door protectors or car detailing products sold on this site.