Product Description
Description
The sleek and stylish Bumpshox XL is the perfect compliment to your vehicle. The lower profile design blends in with the bumper for a stealthy appearance. At 14 inches wide by 7.75 inches thick the BumpShox XL is the prfect front bumper guard. Made from V-Tech
Specifications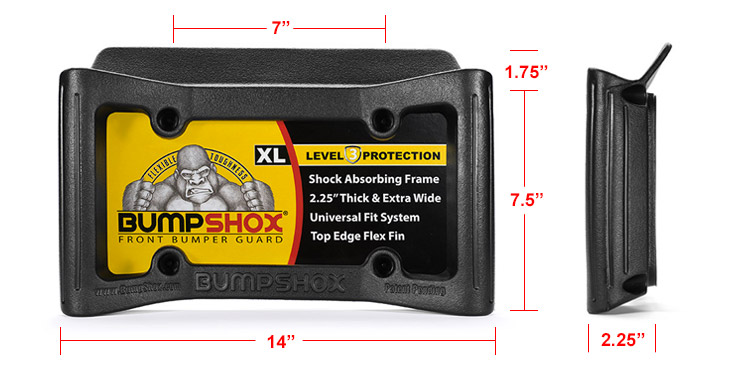 14" WIDE X 2.25" THICK X 7.5" TALL
OR 9.25" TALL WITH FLEXFIN
Includes four #14 ¾ inch screws
Features
Without car bumper protection your car bumpers are at risk. Bumper to bumper collisions during parking are on the rise. Without a bumper protector your vehicle is susceptible to bumper damage every time you park.
Whether you park on the street or in a parking garage, car bumper guards and rear bumper protection is a must have accessory.
---
Flexible Toughness
Super strong foam rubber flexes to absorb low impact parking related bumps. BumpShox was designed with amazing resilience and compression rate so it absorbs impact energy and flexes back to its original shape.
Heavy Duty Design
For maximum performance BumpShox is made from a revolutionary foam material that's super strong and flexible to absorb low impact parking bumps.
BumpShox will keep flexing bump after bump and will never rust, crack or bend out of shape like metal or plastic license plate frames. The extra wide and extra thick dimensions make BumpShox a heavy weight on the street.
Flexes Around Bumper
BumpShox flexes and molds around any shape bumper for a perfect fit. Bend it, Flex it, Twist it...For extra clearance the BumpShox was designed taller, wider and thicker than a standard license plate frame to provide maximum protection.
While BumpShox products look enormous on paper they were designed using an angled architecture to complement angled front bumpers of any vehicle style.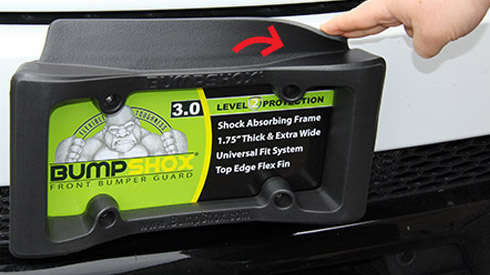 Top Flex Fin
One of the most common complaints during parking is when a taller vehicle over runs the front license plate and dents, dings and scratches the front bumper. BumpShox integrates a Top FlexFin that extends 1.75" along the top of the BumpShox to provide extra protection from taller vehicles and SUVs.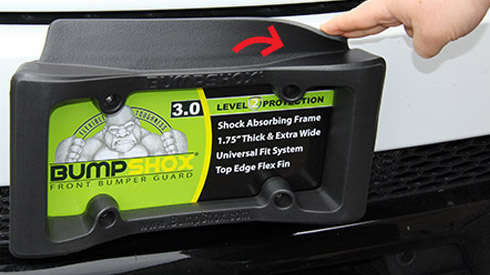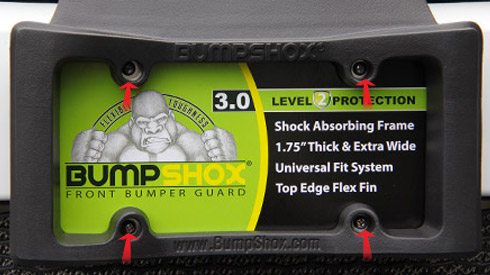 Recessed Screw Design
BumpShox utilizes a recessed screw design, where the mounting screws are recessed into the foam to help prevent damage to another vehicle's bumper during parking. Every year Drivers spend millions of dollars fixing bumpers that are damaged by other protruding license plate mounting screws. BumpShox is designed without any protruding metal screws or parts that can damage another vehicle.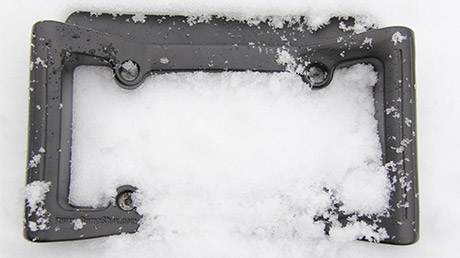 Extreme Weather Rated
BumpShox is designed for heavy-duty outdoor use; rain, sleet or shine BumpShox is designed to be used outdoors 24 hours a day, 365 days a year. For maximum performance BumpShox is constructed from a chemical, UV and weather resistant revolutionary flexible foam material that remains flexible even in freezing temperatures.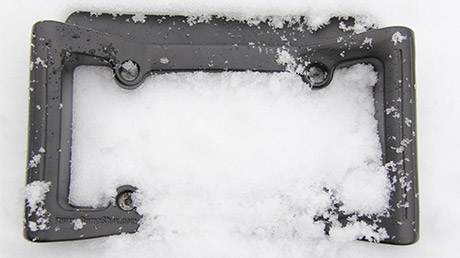 ---
FLEXIBLE FOAM

Does not crack like plastic or bend like metal

TOP FLEX FIN

Provides extra protection from taller vehicles

HEAVY DUTY

Foam material is strong and flexible

RECESSED SCREW

Prevents damage to other vehicles

EXTRA WIDE/EXTRA THICK

Extra dense material provides protection

EXTREME WEATHER

UV resistant and weather rated
Installation
The BumpShox is the amazing new front bumper guard that's worthy of today's high end luxury car or sports car. Whether you drive a Bentley, Porsche, Audi, Mercedes, Ford, Honda, Toyota or another vehicle you can be sure that the BumpShox ultimate bumper guard will compliment your vehicle with class. The tapered ends and pyramid design structure makes the BumpShox look smaller than it is, while enhancing the natural impact characteristics and flexibility. For enhanced protection the BumpShox bumper protector was constructed of a v-tech foam rubber whose energy absorbing qualities makes it ideal for a vehicles bumper. It will not crack, break, rust, bend or collapse like some other bumper guard license plate products. For added bumper protection the BumpShox bumper guard was designed much thicker, taller and wider than a standard license plate frame.
STEP 1
Remove current license plate frame and save screws for STEP 2 (Screws are not provided with BumpShox)
Note: For some vehicles the factory screws may be too short. If this is the case you may need to purchase longer fastners.
STEP 2
Re-install screws making sure Bump Shox and license plate are securely attached to vehicle.
Do not over tighten screws as it may damage BumpShox.
Note: Screws are not included.
Recommended screw size #14 x 3/4 inch
Product Reviews
Write Review
Great product

Posted by Unknown on Mar 5th 2018

Absorb low impact parking

East to install

Posted by Unknown on Oct 3rd 2017

Easy to install. I do not know how well it will protect my front bumper so I am giving this product a 4 stars.

Saftey

Posted by Rob on Aug 5th 2017

Parking in the city is a roller coster, people bump your car all the time. I purchased this product and helps put some ease to that issue. Every little bit helps and doesn't look bad, either..

A great product

Posted by Olga on Jan 14th 2016

I bought Bumpshox once and then bought again, so everybody in my family has it. I spend a lot of time commuting when the traffic changes speed frequently/stops all of sudden and this product is a life (car) saver! It's also great when you have to park close to another car in front of you (I work in LA). Now I can park as close to a car in front of me as possible without a risk of scratching cars, and I don't need to waste my time on looking for bigger parking spots. My concern was that Bumpshox XL (the biggest size available) would look ridiculously huge on my Honda Civic, but it's looks great and doesn't spoil the car design. I am very happy with my purchase.