Product Description
Description
For those individuals who want the best, this is our biggest, thickest and toughest front bumper guard. Weighing in at 1.45 lbs this is the heavy weight champion of bumper protection. The solid flexible rubber construction means this thing is durable and will never rust or crack like standard license plate frames. Designed extra thick, this BumpTek is perfect for cushioning minor parking related bumps. PlatePocket by BumpTek utilizes sharp angles and tapered edges to create a stealthy low profile appearance that will add sophisticated style and good looks to any vehicle.
PRODUCT INFORMATION
PlatePocket by BumpTek is made from a super durable soft flexible rubber that compresses and flexes on impact – cushions minor parking bumps. The specially formulated rubber material can withstand hot and cold climates - remains flexible even at freezing temperatures. Will never crack or rust like metal or plastic license plate frames. BumpTeks patent pending Kangaroo pouch system completely encases the license plate in rubber. Simply insert your license plate into BumpTeks top open slot and bolt to your vehicle's front bumper.
Specs
12.75" WIDE X 1" THICK X 7" TALL
Includes four #14 one-inch screws
Features
Soft Flexible Rubber: Compresses and returns back to its original shape
Kangaroo Pouch System (Patent Pending): Fully encases the license plate
Recessed Screws: Mounting screws are recessed into the rubber frame, no protruding screws that can damage other vehicles
Stealth Design: Complements any vehicle style without drawing attention
All Weather Rated: Can withstand hot and cold temperatures
---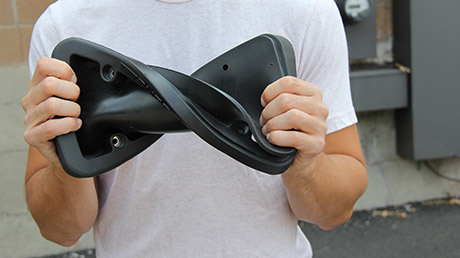 All Rubber Flexible Construction
The PlatePocket is all about quality, made of an all weather rubber material that stays flexible even in coldest weather. Our all weather rubber material can be used rain or shine and will not crack, break or tear.
Will Not Rust, Crack or Bend like Metal or Plastic Frames
Constructed out of rubber, PlatePocket is able to flex on impact and will not crack like plastic or rust like a metal license plate frame! Steel or plastic bumper guards are not flexible and will not absorb the impact energy of a parking bump. The rubber construction ensures a lasting finish, while metal or plastic products crack or rust when the finish chips away.
Two-In-One Design
PlatePocket gives you two products for the price of one! As both a license plate frame and a bumper protector PlatePocket offers the best of both worlds, a stylish car accessory and protection for your vehicle from careless drivers.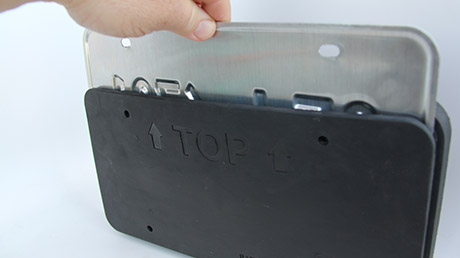 Kangaroo Pouch System
PlatePocket encases your entire license plate in impact resistant rubber, similar to that of a kangaroo pouch. Great for license plates that are slightly bent or hang low on the bumper, the kangaroo pouch system protects the bottom of your license plate while simultaneously protecting your bumper.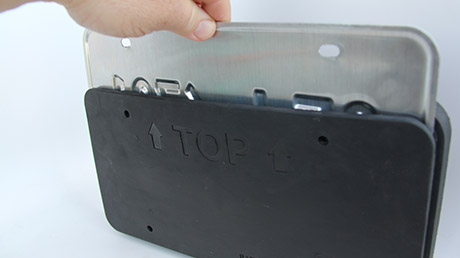 ---
Soft Flexible Rubber

Does not crack like plastic or bend like metal

Kangaroo Pouch System

Patent pending

Stealth Design

Compliments vehicle look

Recessed Screws

Prevents paint gouging

All Weather

UV resistant and weather rated

Universal Fit

Fits most vehicles
Installation
PlatePocket by BumpTek mounts like any standard license plate frame. Insert the license plate into PlatePocket's top open slot. Next, bolt PlatePocket to your front bumper with Size #14 - 1" inch length screws (included). Designed for 2 bolt or 4 bolt installation.
(1) BUMPTEK WAS DESIGNED FOR THE FRONT BUMPER. May not work on the rear bumper due to clearance issues.
(2) CHECK HOLE SPACING: Front license plates have standard spaced holes. Nonetheless, please check your license plates hole spacing and compare it with BumpTeks product specifications before purchasing.
(3) MAY NOT FIT SOME VOLVO VEHICLES: Volvo mounting screws are to short.
(4) WHEN USED CORRECLY BUMPTEK MAY HELP PROTECT BUMPER FINISH FROM SCRATCHES AND SCUFFS. BUMPTEK WILL NOT PROTECT VEHICLE OR OCCUPANTS IN EVENT OF A COLLISION.
Product Reviews
Write Review
heavy duty rubber!

Posted by Unknown on Apr 27th 2017

As the subject notes, the material is hi-end, no question. If I can suggest a design "refresh" to include weeps for proper water drainage on wet/rainy conditions. Good overall.

Car bumper fanatic

Posted by Patty on Sep 2nd 2016

I am very please with the pouch pocket. I'm a fanatic about my car and when I saw these I had to get it. I purchased 5because I'm going to give them out to my family as Christmas gifts. Great idea.