Product Description
Description
CityBumper is a rear bumper guard that you flip in/out of your trunk. The unique horizontal ribs are hollow on the backside to provide a cushion barrier from minor parking bumps.
CityBumper is premium quality, so it stays flexible in all weather conditions.
Specs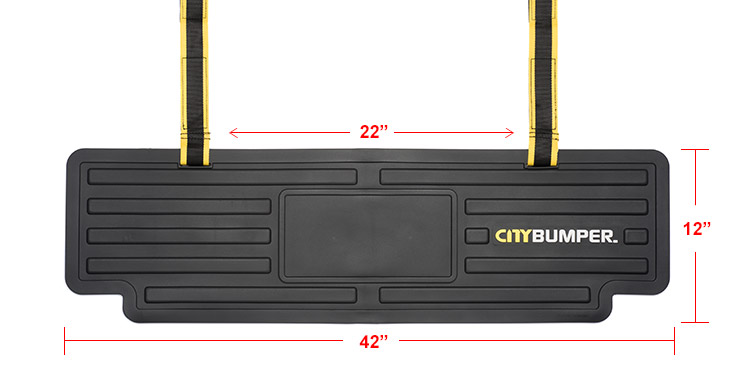 Overall width = 42 inches
Height = 12 inches
Distance between straps = 22 inches
Length of straps = 28 inches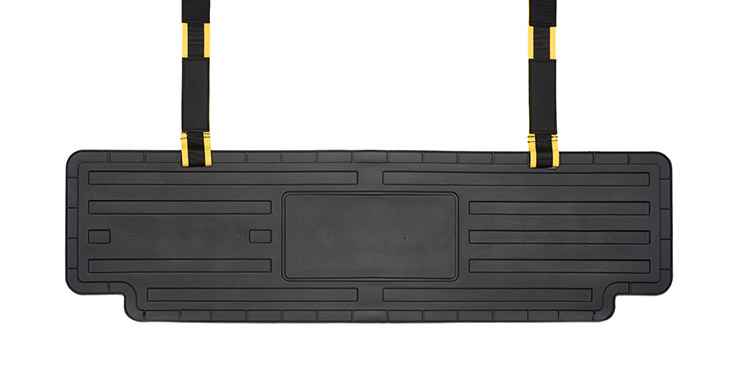 Features
All Weather Premium Quality - Can Be Used Rain or Shine
Shock Absorbing Ribs (Cushions Parking Bumps)
Soft Touch Trunk Straps Pads
42" x 12" Extra Wide Surface
Two Tone Trunk Security Straps (Yellow/Black)
---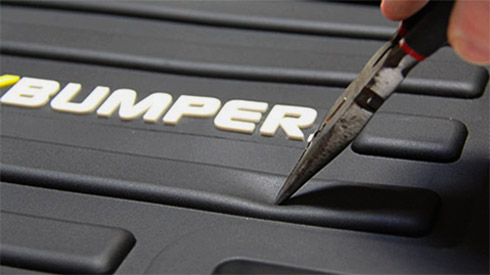 Shock Absorbing Ribs
The raised ribs on the CityBumper cushion minor parking bumps, with raised areas that run linear to the surface, providing strategic impact zones. These areas were designed to flex and compress during parking bumps to absorb some of the impact energy.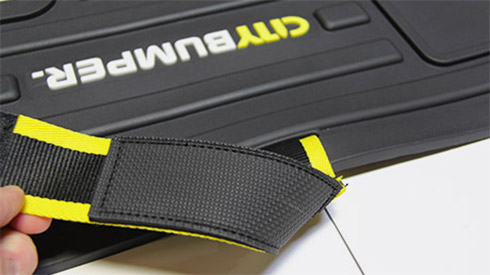 Soft Touch Trunk Straps Pads
The CityBumper trunk straps have 2" x 4" soft foam rubber pads on the straps. The pads provide a cushioned surface and raise the straps off the bumper. By raising the straps off the bumper, the soft strap pads add an additional barrier layer between the strap fabric and the vehicle bumper.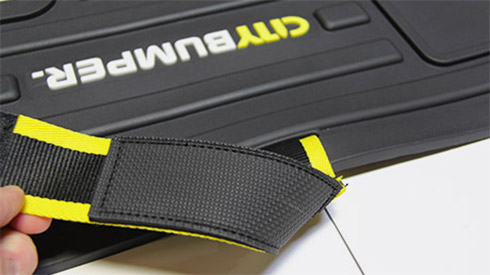 License Plate Cut Out Area
For vehicles where the license plate is mounted in the rear bumper, simply cut out the license plate area on the CityBumper using a sharp razor blade and follow the guidelines on the product. Most vehicles in the U.S. have license plates mounted above the bumpers, so the cutout is available as an option for those vehicles that need it.
All Weather Material

Year round protection

Shock Absorbing Ribs

Channels impact outwards

Extra Wide Surface

Coverage where it counts

Security Straps

Firmly in place
Installation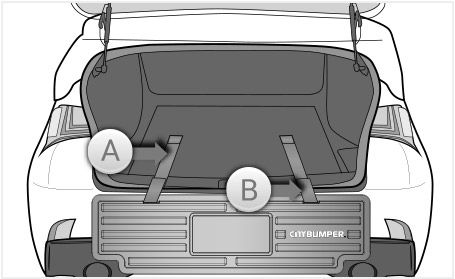 To install simply attach the products velcro straps to the trunk carpeting. Product comes packaged folded in half inside a full color box. The box includes easy attachment instructions.
When not in use the bumper guard lays flat inside the vehicle trunk. Please note that CityBumper is a temporary rear bumper guard for parked vehicles only (DO NOT DRIVE WITH PRODUCT HANGING OUTSIDE VEHICLE).
Product Reviews
Write Review
Eurobumperguard

Posted by Franchot A Campbell on Sep 13th 2017

I bought this just in time. I live in a city setting and most cars park very close. As soon as I got it I installed it. The next day I discovered 2 screw dents from a cars license plate imprinted on my bumper guard! This product works for me.

I made a good choice

Posted by Unknown on Dec 21st 2015

It fits great. Looks good. Easy to put on. I will definitely tell friends and family about it..