Product Description
Description
The BumpShox XXL is the BIGGEST and THICKEST front bumper guard on the market, measuring 15 inches wide and 2.5 inches thick, it is noticeably wider and taller than any standard license plate frame. Featuring a blacked-out logo to maintain a stealth appearance and an all-new military tough surface texture. The distinctive arches and steep angles compliment and enhance the look for any front bumper all while providing maximum protection from low impact parking bumps.
The BumpShox XXL is a replacement license plate frame made from flexible foam rubber that doubles as a car bumper protector. It is designed to complement the sculpted lines of your vehicle while offering bumper protection 24 hours a day, 7 days a week - no need to remove the bumper guard.
Specs
15" Width x 2.5" Thick x 8.5" Tall (9.75" w/FlexFin)
Features
Flexible Toughness
Flexible Toughness - Bend it, Flex it, Twist it...BumpShox is resilient and will absorb impact energy then flex back to its original shape bump after bump and will never rust, crack or bend out of shape.
Unobstructed plate design
Unobstructed plate design to clearly view your full license plate, simply push your plate in and attach using standard license plate holes.
Pyramid structure
Pyramid structure – BumpShox is taller, wider and thicker than a standard license plate frame to provide extra clearance and maximum protection.
While BumpShox products look enormous on paper they were designed using an angled architecture to complement angled front bumpers of any vehicle style.
Patented FlexFin
Patented FlexFin that extends 1.75" from the top of the BumpShox offering extended protection from taller vehicles and SUVs.
Extreme Weather Rated
Extreme weather rated material resistant to chemicals, UV and weather, which remains flexible even in freezing temperatures.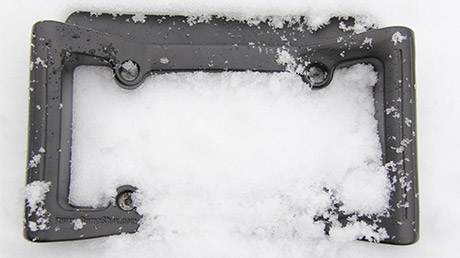 ---
FLEXIBLE FOAM

Does not crack like plastic or bend like metal

TOP FLEX FIN

Provides extra protection from taller vehicles

HEAVY DUTY

Foam material is strong and flexible

RECESSED SCREW

Prevents damage to other vehicles

EXTRA WIDE/EXTRA THICK

Extra dense material provides protection

EXTREME WEATHER

UV resistant and weather rated
Installation
ADDITIONAL NOTES:
We include screws and bolts (4) # 14 x 1" and (4) M6 x 1" with your BumpShox. However, most standard license plate screws will work if you want to use your current screws. The BumpShox may be mounted using 2 or 4 screws.
Please note that the standard distance between the license mounting holes is 7 inches - center to center. This is standard license plate spacing in the United States, however due to dealership handling, there may be some exceptions. Please measure the distance between mounting holes before ordering.
Note: BumpShox Will Not Work on some Volvo vehicles because the screws on certain Volvo license plate brackets are integrated directly into the frame and can't be removed.
BumpShox is Intended For Use on the Front Bumper Only! It Will Not Fit the Rear Bumper Because the Flex-Fin is too tall.
---
The BumpShox is the amazing new front bumper guard that's worthy of today's high end luxury car or sports car. Whether you drive a Bentley, Porsche, Audi, Mercedes, Ford, Honda, Toyota or another vehicle you can be sure that the BumpShox ultimate bumper guard will compliment your vehicle with class. The tapered ends and pyramid design structure makes the BumpShox look smaller than it is, while enhancing the natural impact characteristics and flexibility. For enhanced protection the BumpShox bumper protector was constructed of a v-tech foam rubber whose energy absorbing qualities makes it ideal for a vehicles bumper. It will not crack, break, rust, bend or collapse like some other bumper guard license plate products. For added bumper protection the BumpShox bumper guard was designed much thicker, taller and wider than a standard license plate frame.
STEP 1
Remove current license plate frame and save screws for STEP 2 (Screws are not provided with BumpShox)
Note: For some vehicles the factory screws may be too short. If this is the case you may need to purchase longer fastners.
STEP 2
Re-install screws making sure Bump Shox and license plate are securely attached to vehicle.
Do not over tighten screws as it may damage BumpShox.
Note: Screws are not included.
Recommended screw size #14 x 3/4 inch